Poetic Event at the Chillon Castle on Thursday 6 June
The social evening of the congress will start with a boat cruise on the Lake Geneva followed by a special evening at the Chillon castle where a cocktail dinner will take place.
This castle is a hotspot of worldwide poetry: Byron, Wordsworth, Hugo, Rilke and many others have celebrated this historical monument.
Beyond a very poetic guided visit, this evening will be an opportunity to bring to light, through intense and original moments, how much this Léman Lake vale is port of the poetry world heritage.
Program:
Boat departure at 15:30 PM from Lausanne-Ouchy
Arrival at the Chillon Castle at 16:53 PM
Shuttle from Chillon castle to Lausanne at ~22:00 PM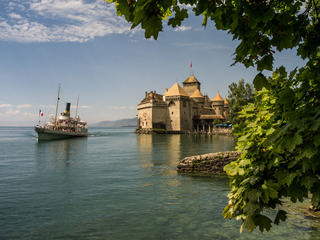 Chillon Castle is located on a rock on the banks of Lake Geneva.
The water castle is the most visited historic building in Switzerland.
For nearly four centuries Chillon was the residence and profitable
toll station of the Counts of Savoy.
Contact
REGISTRATION &
ACCOMMODATION
Mrs Mirjam Kiener
Lausanne Tourisme &
Convention Bureau
Av. Rhodanie 2, CP 975
CH - 1001 Lausanne
kiener@lausanne-tourisme.ch
+41 21 613 73 10

GENERAL INFORMATION
Mrs. Marie Thorimbert
marie.thorimbert@unil.ch

SCIENTIFIC PROGRAM
Prof. Antonio Rodriguez
info@lyricology.org
Event map
View event map on full screen
Discover Lausanne
Lausanne Tourism
Lausanne Transport Card
MyLausanne (insider tips)
Underground timetable (M1)
Weather in Lausanne
Lausanne, culture for every taste
Lausanne - There is an energy floating in this City